Finally after more than a year, Dearly Devoted has a new layout! Since s2 of Dollhouse has started, and I began doing a rewatch of Buffy (on s3 now, Yay for Faith lovin'!), and planning on watching Angel and Firefly after, I decided to make this layout to honor some of Joss Whedon's warrior women from each of my fandoms. The new layout features Chrisma Carpenter (Cordelia) representing Angel, Eliza Dushku (Echo) representing Dollhouse, Gina Torres (Zoe) representing Firefly/Serenity, Felicia Day (Penny) representing Dr. Horrible's Sing-Along Blog, and Sarah Michelle Gellar (Buffy) representing Buffy the Vampire Slayer.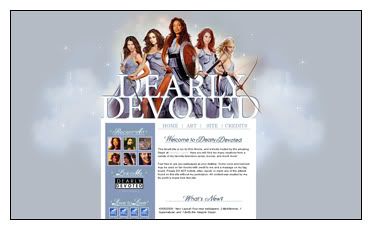 Also, added are four new wallpapers - 2 Multifandoms, 1 Supernatural, and 1 Buffy the Vampire Slayer. New Miscellaneous Icons added, and a Shiney! New SOTM featuring Dana @ dana.thedudes.nu/chosenart/

Check it out and tell me what you think!

P.S. - Thanks to Marilyne for my yummy new Fean icon! Mmmmmm!